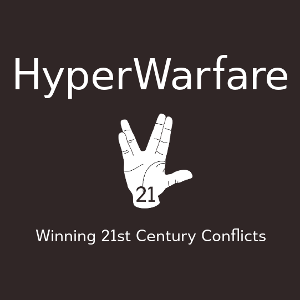 Head of Strategy
and Consultant to Governments & Military
June 2018 to April 2021

HyperWarfare, Inc. – HyperWarfare.com
Houston, Texas USA
HyperWarfare EU – HyperWarfare.eu
Berlin, Germany
Main Focus:

HyperWarfare = Individualized Warfare in the Cognitive Domain.
Defending against / Winning 21st Century CyberSpace and Societal Conflicts.
Warfare in the Cognitive Domain is what RLC (the parent company of HyperWarfare Inc) has been doing since 2008, starting with ExoWarfare.
In 2021, the Norfolk, Virginia, based NATO Innovation Hub defines it as: "the very essence to seize control of places, groups, units, organizations, and nations, by targeting and affecting the brains of their personnel, civilian as well as military".
Cognitive Warfare "embodies the idea of combat without fighting. Mastering the cognitive domain constitutes a new major stake indispensable to the generation of combat power."
According to NATO Innovation in 2021, "The Cognitive Domain is a new space of competition, beyond the land, maritime, air, cybernetic and spatial domains. Warfare in the cognitive domain mobilizes a different and wide range of strategies, tools, and techniques." … or in other words: 'the cat is out of the bag' now. While well described, the NATO Innovation unit sees it still as a 'work of science fiction' (disclaimer by August Cole and Hervé Le Guyader).

Not as 'new' though: RLC invented both ExoWarfare (targeting defined groups) and HyperWarfare (targeting the individual); thus elevating the 'bread & butter' of CyberWarfare to a much higher level (ExoWarfare, since 2008), and then to high-precision HyperWarfare (since 2018). Back in 2008, tools and computing power were still somewhat limited: tools had to be created, and computing power carefully used, allowing only for targeting towards groups – aka ExoWarfare; based on ThreadStream Logic Gate Computing (invented for this purpose, in lieu of available tools in arenas such as Artificial Intelligence and Deep Machine Learning at the time – more than a decade ago). With much advanced tools readily available now, as well as an abundance of computing power with specialized ANI and ASI chips, individual targeting on the very large scale has become possible. The penetration of communication channels via the Internet, social media, 'smart' phones, and others, connects nearly every human brain to the net and thus to perceptions.

Spring 2020: first production deployment of HyperWarfare applications.
See also the generic HyperWarfare Blog
C4ISR is an acronym used by the U.S. Department of Defense, U.S. intelligence agencies, and the defense community, which stands for Command, Control, Communications, Computers, Intelligence, Surveillance, and Reconnaissance.